Turrialba is a Costa Rican salty young cheese made of cow's milk. It got its name from the city of Turrialba in Cartago province.
Turrialba cheese has very common uses in most side dishes, specially when it comes to coffee time or even as a bar snack. It's most common use is being served inside a piece of cold baguette bread, but it can also be grated and baked over a sweet plantain to make maduro con queso which is a typical snack served in sodas (Costa Rican snack bars) or simply served cold or hot and melted in a corn tortilla.
As a bar snack it use to be diced, sometimes battered and deep fried to make dados de queso.
Manufacturers
Edit
Turrialba cheese is commonly made by several artisan and industrial manufacturers, however Dos Pinos and Monteverde are the two most important cheese manufacturers in the country which traditionally produce the Turrialba along with other popular cheese types.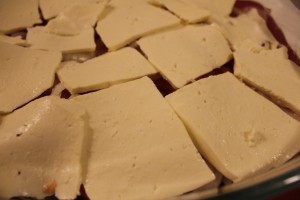 Community content is available under
CC-BY-SA
unless otherwise noted.