Taleggio is a washed rind Italian cheese that is named after Val Taleggio. The cheese has a strong aroma, but its flavor is comparatively mild with an unusual fruity tang. Its crust is thin and studded with salt crystals.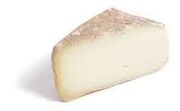 History
[
]
The name Taleggio has been used before the 10th century in the caves of Val Taleggio. It might be one of the oldest soft cheeses. The production takes place every autumn and winter when the cows are tired (Italian: stracche). Giacomo Casanova decided in 1763 in Sant'Angelo Lodigiano to write articles about cheeses in his encyclopedia. His work was never completed.
Production
[
]
First, the acidified milk is brought to the lab from milk calves. The cheese is set on wood shelves in chambers, sometimes in caves as per tradition, and will mature within six to ten weeks. It is washed once a week with a seawater sponge, in order to prevent mould infestation, and to prevent the cheese from forming an orange or rose crust. Today, the cheese is made from pasteurized milk and from raw milk in factories. The factory-made ones are brighter and moderate in flavor. Spices, raisins, nuts and some lemons are also added.
Presentation
[
]
The cheese can be eaten grated with salads such as radicchio and rucola and with spices and tomato on bruschetta. It melts well, and can be used in risotto or on polenta.
Nutritional information
[
]
Taleggio

Fat content
48%
Nutritional values
(per 100 g):
Energy: 294 kcal, 1,230 kJ, protein: 18 g, fat 25 g, calcium 460 mg, phosphorus 360 mg, magnesium 22 mg, vitamin A 450 mg, vitamin B2: 280 mg, vitamin B6: 131 mg, vitamin E 4,450 mg
Dimensions
18—20 cm (7.1—7.9 in) square, height: 5—8 cm (2—3.1 in)
Weight
1.8—2.2 kg (4—4.9 lb)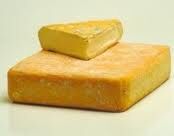 External links
[
]