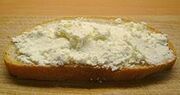 Bryndza, or Brimsen, is a sheep milk cheese made in Central and Eastern Europe.[1] Recipes differ slightly across the countries.
Etymology
Edit
Brânză or brînză (Romanian pronunciation: [ˈbrɨnzə])is the generic word for "cheese" in Romanian,[2] there is no special type of cheese associated with it. It is a word presumably inherited by the Romanian language from Dacian, the language of the pre-Roman population in the actual Romania (see also List of Romanian words of possible Dacian origin). The word was first recorded as brençe described as "Wallachian cheese" in the Croatian port of Dubrovnik in 1370. Bryndza was first recorded in the Slovak counties in 1470 and in the adjacent Polish Podhale in 1527.[3]  Today, "bryndza", a word descended from the Romanian root, is used in various countries throughout the CEE region,[4] due to its introduction by migrating Vlachs. In contrast to the original Romanian word, it is exclusively used for the one type of soft crumbly cheese described above. In Slovakia, bryndza serves as the main ingredient to "bryndzové halušky" which is regarded the national speciality (halušky - small gnocchi - are mixed with bryndza and topped with fried chops of fatty bacon). Bryndza is therefore regarded as typically Slovak product, though of Vlach origin. The modern version of the soft spreadable bryndza is believed to have been developed by enterpreneurs from Stará Turá (Western Slovakia) toward the end of the 18th century who founded bryndza manufactures in mountainous regions of Central and Northern Slovakia where sheep cheese production had deep roots of the Vlach tradition, and traded with it, popularizing bryndza all around the Austrian monarchy. Outside Slovakia and the flanking regions of Southern Poland, it is still popular nowadays in the Czech Republic under a modified Czech spelling "brynza".

Geographical indications
Edit
External links
Edit
References
Edit
Community content is available under
CC-BY-SA
unless otherwise noted.